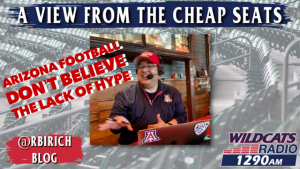 By Rich Herrera
Wildcats Radio 1290/CBS Sports Radio
The college football season is upon us and the traditional powers are once again poised to take their place on the throne of the game of NCAA football.
There is NOTHING mediocre about Alabama Football. #RollTide pic.twitter.com/9dZidqebES

— BCS – Bama On3 (@BamaOn3) July 31, 2021
In the PAC-12 it's the same story with USC picked in the South.
𝗣𝗿𝗲𝘀𝗲𝗮𝘀𝗼𝗻 𝗔𝗹𝗹-𝗣𝗮𝗰-𝟭𝟮 𝗛𝗼𝗻𝗼𝗿𝘀‼️#FightOn✌️ pic.twitter.com/JcQWIgIGBf

— USC Football (@USC_FB) July 27, 2021

And The Oregon Ducks picked to fly in the North.
What makes @oregonfootball the successful program it is? 🦆@coach_cristobal says it's all about combining the physical brand & explosive players.

📺 Pac-12 Network
📲 https://t.co/FzSeZau9FX#Pac12FB | @76 pic.twitter.com/PDc3WjUfSO

— Pac-12 Network (@Pac12Network) July 27, 2021

The Arizona Wildcats are expected to finish dead last in the Pac this season.
Pac-12 media preseason poll

North
1-Oregon (38 1st place votes)
2-Washington (2)
3-Cal
4-Stanford
5-Oregon St
6-Wash St

South
1-USC (27)
2-Utah (6)
3-Arizona St (6)
4-UCLA
5-Colorado
6-Arizona

Pac-12 champ

Oregon (27 votes), USC (10), Utah (3)

— Brett McMurphy (@Brett_McMurphy) July 27, 2021
Candidly I can't argue with the pre-season poll.  Arizona is riding a 12 game losing streak that stretches back to the 2019 season.  There are more questions than there are answers heading into the beginning of training camp on Friday.  Who will play quarterback in the opener vs BYU?  How will the offensive line play with a QB under center for the first time in a long time?  Who will be able to put pressure on the great QB's we have in the conference?  How quickly will the new coaching staff be able to download the playbook to the entire team this fall?  Who will emerge as leaders for this team that has been beaten down for the last few years?  How will they react when they face their first big test and what kind of resolve will they show when they knocked on their rear end this season?
ICYMI, we'll be evaluating each of Arizona football's position heading into fall camp.

First up is the QBs. UA has some intriguing options but an open competition and some major question marks. https://t.co/rokJlWjo1F

— Ryan Kelapire (@RKelapire) July 26, 2021
There is one big question that has already been answered for me.  Last week in LA at PAC-12 Football Media Day, I was interviewing Anthony Pandy and he told me something that makes me feel good about the biggest challenge the Cats will have this season.   Have they changed the culture around the football program?  Have they been able to change course and get the team to buy into the new direction that Jedd Fisch is taking them this season.
Action packed Rich Herrera Show today including:
-USC Head Coach Clay Helton
-USC WR Drake London
– Arizona LB Anthony Pandy
-UCLA Head Coach Chip Kelly
-UCLA QB Dorian Thompson-Robinson
-Arizona State DB Chase Lucas
-Arizona State QB Jayden Daniels
And..UA Head Coach, Jedd Fisch pic.twitter.com/eyJlPq42HS

— WildcatsRadio1290 (@Wildcats1290) July 27, 2021

Pandy told me that Coach Fisch is owning the 70-7 loss to ASU. He wasn't even here when the Cats were mauled by The School Up North. In fact, he was probably in New England breaking down film of the Pats loss to the Rams on Thanksgiving. He had nothing to go with the loss to ASU. He could have said turn the page, let's move on, I wasn't the coach so I don't care what happened last year. But that is not what a good leader does. A good leader shoulders the burden like the rest of his troops. He gets in there with them and has their back. He demands accountability of his team, but even bigger than that, he is accountable to them as well. He has bought into this team and they have bought into him, and that is something we haven't seen around Arizona Football in a while.
First-time head coach Jedd Fisch has done a master class at @ArizonaFBall on how to change a culture around a football program and win over everyone around the U of A community. Here's exactly how he did it. [New subscribers can save 50% for limited time] https://t.co/brUOLc7xcK

— Bruce Feldman (@BruceFeldmanCFB) July 30, 2021

I don't care about any polls at this point of the rebuilding of Arizona Football. We can watch the polls later. For my money right now the Arizona Wildcats have already exceeded what they did last season before the first day of camp because when they say IT's Personal, it means something.
That Morning Work 😤💪#BearDown #ItsPersonal pic.twitter.com/2UvvLe11fR

— Arizona Football (@ArizonaFBall) July 22, 2021