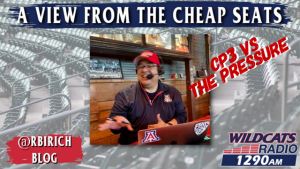 By Rich Herrera
Wildcats Radio 1290 / CBS Sports Radio
Well, Arizona, let's face it there is no tomorrow for the Suns.  They have been such a great story this postseason for the Copper State.  Fans who had given up on them long ago have reemerged as hard-core fans that are all in on the Suns.  They have had their faith restored and began to believe that the state's very first professional sports franchise has a chance to deliver on the promise of hoisting an NBA championship trophy in the 48th state in the union.
#FunFact: On this day in 1949, the @NBA was formed. The original NBA league consisted of 17 teams. This year marks 50 seasons in Phoenix for the @Suns, who began play as an expansion team in 1968. #SunsAt50 pic.twitter.com/EvK2CVYgfb

— Arizona Governor's Office of Education (@AZGovEducation) August 3, 2018
Fans fell in love with their first pro team,  way before the Cardinals migrated to the Valley, and Diamondbacks beat the Yankees, the Suns were on the edge of winning the state's first championship. Sir Charles came to Arizona and the stars were all aligned and the parade route was being mapped out for the biggest party the state had ever seen.
On this day in 1992:

The 76ers traded Charles Barkley to the Suns.

Barkley went on to average 25.6 points on 52% FG, 12.2 rebounds and 5.1 assists per game that year.

He became the third player ever to win league MVP honors in the season immediately after being traded. pic.twitter.com/tcRHlU9pN8

— CBS Sports HQ (@CBSSportsHQ) June 17, 2020
But then reality set it, and its name was Jordan.
On this date in 1993…

Michael Jordan and Charles Barkley each scored 42 points in Chicago's 111-108 victory, marking the first time in NBA Finals history that opposing players each scored 40 or more points in a Finals game. pic.twitter.com/YjpTqie2DN

— ESPN Stats & Info (@ESPNStatsInfo) June 11, 2020
Watching this series go from 2-0 with the Suns in control to losing three in a row has to be a gut punch for those long-time Suns fans who are still waiting for that first championship after all these years. Their mood was so upbeat and positive and you could feel the energy.
So much fun and energy at Game ✌🏽last night! #RallyTheValley #Suns #AZgal #NBAFinals2021 pic.twitter.com/CsTWgbtXP8

— Vanessa Ramirez (@VanessaROnAir) July 9, 2021
Then reality set in … once again …
Two nights.
Two of the most iconic moments in Bucks history.
Giannis is everything.#FearTheDeer #BucksInSix pic.twitter.com/62on87nOSd

— Bally Sports Wisconsin (@BallySportWI) July 18, 2021
Are the Suns done, will it be #BucksInSix?
Anyway, tonight's attire was on point.#FearTheDeer #BucksInSix 👕 pic.twitter.com/hRLJUyOFXz

— Steven H. #FearTheDeer (@Steven_Hudy) July 18, 2021
The Bucks have all momentum and are feeling it heading into Game Six, no doubt about it. So what are the Suns to do? Roll over and play dead, or do they have the fight that it takes to win a ring. I am a fan of Monty Williams, but he needs to have his team prepared to fight as they have never fought before. Jae Crowder has been there before but for the rest, this is gut-check time. If this series is to go on to seven games, Chris Paul needs to be the difference makers. Chris Paul is a future Hall of Famer, no doubt about it, but what is his signature moment? He doesn't have one, does he?
Chris Paul is on the verge of becoming the first player to lose four best-of-7 series in which his team led 2-0. The only other player with three best-of-7 series losses in which his team led 2-0 is former teammate Blake Griffin. pic.twitter.com/XyieZkCSvQ

— ESPN Stats & Info (@ESPNStatsInfo) July 19, 2021
The moment is here for Paul. Big-time players make big-time plays, and the stage is set for him to do big things. If the Suns are going to win their first title it's going to be up to Paul to be the difference-maker. This is how legends are made. If he leads the Suns to the title we will talk about him in hushed terms of his greatness. If not he will still be a great player that will end up in Springfield, but his legend will be incomplete.
OG @CP3 gonna be all right @suns pic.twitter.com/XvsXkbDrGh

— Chuck D (@MrChuckD) July 17, 2021
But as we have learned from Arizona Baseball, Pressure is a Privvilege.
One. Win. Away. #NBAFinals pic.twitter.com/e8IymGewsg

— SportsCenter (@SportsCenter) July 18, 2021
BTW …
If the Suns don't win the first guy I am blaming is this guy …
He got the bag #NBA #RallyTheValley pic.twitter.com/QdKL1NFdPC

— SportsTalk with Kash (@lazysportsdude) July 18, 2021